The interest in WWSC's activities increases continuously, both in Sweden and internationally, and we often receive requests from various organizations to come and visit our facilities and learn more about our activities.
The week after Midsummer we hosted both the Federal Minister of Agriculture in Austria together with a delegation from the Austrian government and their embassy in Sweden, as well as a delegation from the research management at Scania.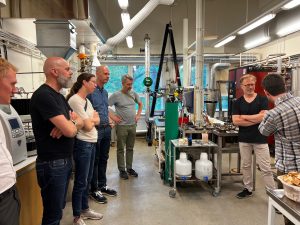 Both visits included overview presentations of WWSC and lab-demo presentations from our highly skilled PhD students and researchers, which led to enthusiastic and interesting discussions.
The Austrian delegation claimed that their visit to WWSC was one of the highlights of their Sweden trip, and the team from Scania emphasized their interest in keeping in contact and exploring the possibilities for future collaborations on the use of forest raw materials for sustainable future material solutions.
For us at WWSC it is always valuable to have discussions and understanding more about the perspectives also of non-academic organizations, such as in this case from politics and industry, so we thank our visitors for coming and hope to see you soon again.